HJPCV News
May 2, 2017
WASHINGTON, D.C. – Today, Congressman Ted Poe (R-TX) and Congressman Joe Kennedy III (D-MA) introduced the bipartisan Sam Farr Peace Corps Enhancement Act (H.R. 2259) to improve the health, safety and well-being of current and returned Peace Corps volunteers.
Please write your Congressperson to support this bill. It only take a second to go HERE and send a pre-written email directly to your Representative. 
Winter 2017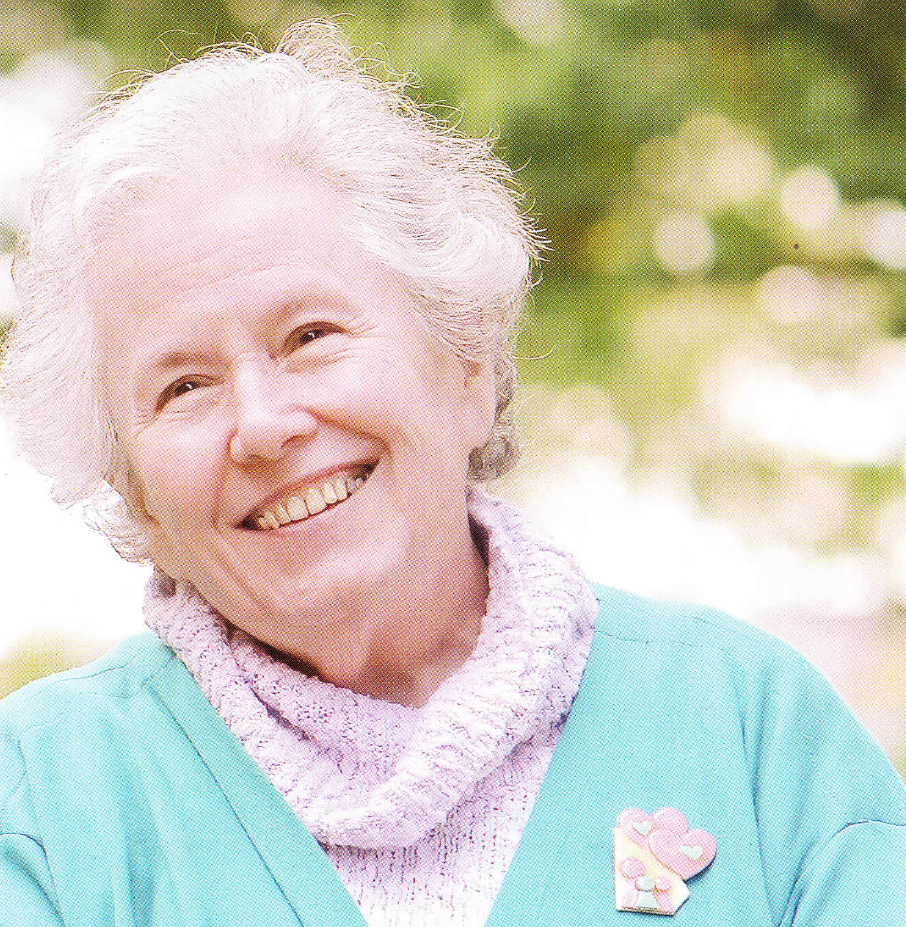 Sheppard Pratt Health System, Emerging from a Traumatic Past
This is a story about a remarkable RPCV, Nancy Flanigan, who served in the 1960s. She was repeatedly raped, became pregnant and the infant died. She received no help for decades. She is finally coming forward with her story and healing. But thus far no help is forthcoming from either the PC or the US Department of Labor.
March 2016
Peace Corps Advocacy Day
Sue and Dave Castle meet with Senator Boxer (D) CA to discuss healthcare reform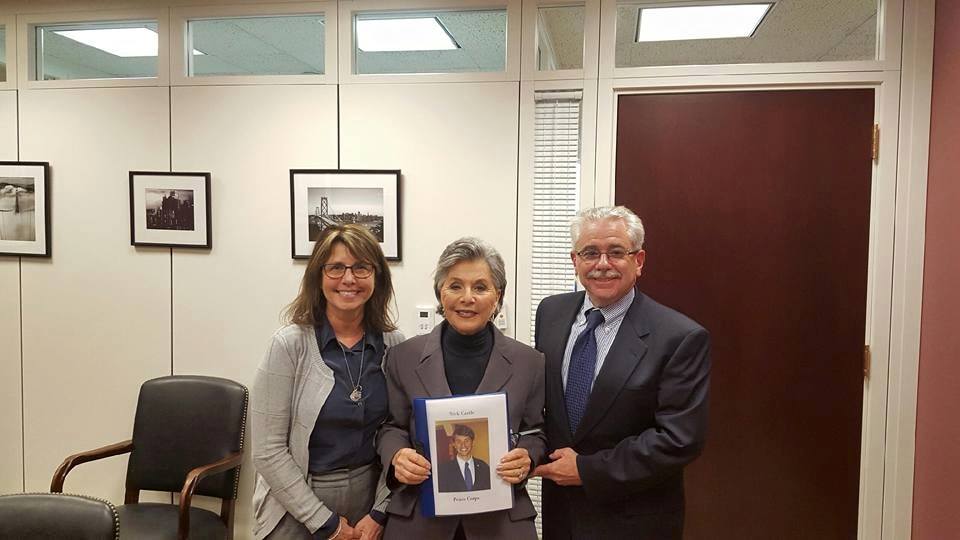 September 2016

Sue Castle does a storyslam about the death of her son, Nick. 
May 2016
The Peace Corps Reform Series on Podcasts (Poshcorps)
Four stories about Peace Corps Volunteers and staff members who work to improve the U.S. Peace Corps.
RPCV Alan Toth interviews RPCVs and posts a series of 4 podcasts discussing issues involving reform. Listen to all of the podcasts HERE. 
Episode 1 download Dysfuntion: This story investigates the complex, frustrating, dysfunctional health care system available to Returned Peace Corps Volunteers.
Episode 2 download Advocate: This story investigates Peace Corps' mismanaged implementation of the Kate Puzey Peace Corps Volunteer Protection Act.
Episode 3 download Mefloquine: This story investigates Peace Corps' use of the anti-malarial drug Mefloquine.
Episode 4 download Institution: This story investigates a fundamental flaw in Peace Corps policy which prevents the agency from embracing reform.
Extra: Full interview with RPCV Chuck Ludlum. Chuck Ludlam and Paula Hirschoff served as Peace Corps volunteers in the Sixties, and they served again as volunteers in Senegal from 2005 to 2007. They found that Peace Corps had not matured as much as it should have over the years. They are among the very few volunteers who have successfully advocated for Peace Corps reform.
March 23, 2016
Senator Poe presents the medical negligence of the case of Nick Castle on the floor of congress. 
March 15, 2015
Letter from Dr. Remington Nevin to PC Director Carrie Hessler-Radelet requesting reform on the use of the malarial prophylaxis, mefloquine/Lariam. His letter was never answered by the PC. 
December 24, 2015
Washington Post
Medical Care for Peace Corps Volunteers Delayed
December 14, 2015
CBS This Morning Reports on Returned Peace Corps Volunteers' Health
September 10, 2014
Carrie Hessler-Radelet (Director Peace Corps), Nancy Tongue (Health Justice for Peace Corps Volunteers) and Chris Lu, (Deputy Secretary of Labor) met together with the US Department of Labor in DC. Health Justice presented a proposal for reform to Labor.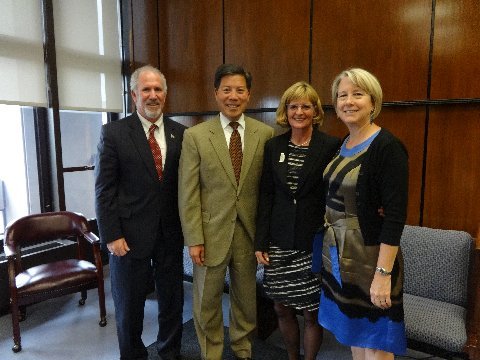 Above: Gary S. Steinberg, Director Office of Workers' Compensation Programs, Deputy Secretary of Labor Christopher Lu, Nancy E. Tongue, Carrie Hessler-Radelet. 
December 16, 2014
Above: Nancy Tongue and Patrick McClannahan (RPCVs) met with Congressional staffers on Capitol Hill (left) and with the NPCA staff (right).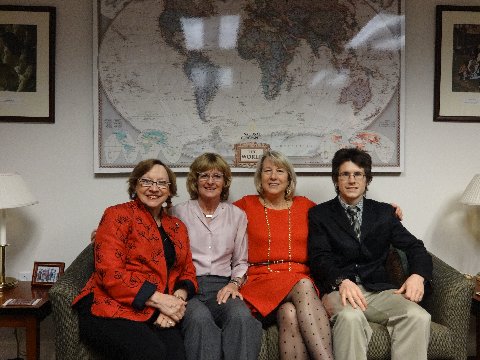 Above: Maryann Minutillo, Nancy Tongue, Carrie Hessler-Radelet, Patrick McClannahan in the Peace Corps Office.
Peace Corps News
October 2, 2013
Peace Corps Statement to Health Justice for Peace Corps Volunteers
Following up on Carrie's behalf, I'm happy to update you on how things are progressing. Carrie is diligently preparing for her confirmation hearing, and we are hopeful it will be scheduled soon. As you probably remember from the fact sheet we shared a few months back, we have taken several steps in the last few years to improve health services and support for both current and returned volunteers, and we continue to build on these steps. Below are some of the ways we are doing that.   
   
Peace Corps has hired new staff:

Billing specialist to focus on Post Service/FECA billing issues (Mr. Sanjay Duggal)

Nurse advocate and FECA case manager (Beth Brooks, RN)

Nurse advocate and billing specialist will receive specialized training at  the Department of Labor tohelp in troubleshooting RPCVs' FECA billing issues  

Peace Corps is working to implement the recommendations of Susan Southwell, nurse consultant, on how Peace Corps can improve the Post Service Unit.

Peace Corps leadership has met with leadership from the Department of Labor's Office of Workers' Compensation Programs earlier this year, with plans for further engagement at the leadership level to strengthen cooperation. 

The Department of Labor has expanded the conditions that can be directly paid by Peace Corps without a FECA claim and increased the amount that can be paid for these conditions.

Peace Corps' Post Service Unit is collaborating with State Department staff to share ideas on how we can best address re-adjustment issues for returning Peace Corps volunteers, as both Peace Corps and the State Department work in similar international environments.

PeaceCorps launched the Department of Labor's ECOMP program so RPCVs can file claims and forms electronically and track their status, resulting in a more rapid and transparent process.

Peace Corps' Post Service Unit will soon be updating its guidance to RPCVs to include ECOMP instructions.

Peace Corps is investing in improvements to phone systems in the Post Service Unit and Office of Health Services so callers can more easily and more quickly reach staff. 
We greatly appreciate your commitment to ensuring current and returned Peace Corps volunteers receive the highest standard of care, and I assure you that we share that commitment. The health, safety and security of our volunteers are our highest priorities.
Please encourage all returned volunteers with concerns to contact the PeaceCorps Post Service Unit at psu@peacecorps.gov.
We can best serve those looking for assistance by hearing from them directly and addressing their case individually, one-on-one.
Once Carrie's confirmation process wraps up, we look forward to talking further about our efforts and our progress. Thank you for your continued support!

Shira Kramer, 
Peace Corps Press
Secretary
August 9, 2013
By Barry G. Simon, M.D., Peace Corps Medical Director, Office of Medical Services
Last week, the U.S. Food and Drug Administration updated its warning label on the anti-malarial drug mefloquine hydrochloride, and there has been a surge in news coverage lately about the side effects of medications used to prevent malaria.
The Peace Corps takes these warnings very seriously and has taken proactive steps to ensure that Volunteers have all of the information they need to make an informed decision about the anti-malaria medication that is right for them, in collaboration with their Peace Corps Medical Officer.
Before beginning any kind of anti-malaria regimen, every Volunteer has an individual, one-on-one consultation with their Medical Officer to discuss the pros and cons of each medication and all possible risks and side effects. Volunteers can revisit their choice of medication at any time during their service, and while mefloquine continues to be an FDA-approved medication for malaria prevention, Volunteers who wish to request a change in medication can do so simply by talking with their Peace Corps Medical Officer. This policy is in place at every Peace Corps post worldwide, and the Peace Corps is working hard to make sure each and every Volunteer is familiar with the options available to them.
The Peace Corps uses a multi-pronged approach to combat malaria among Volunteers, which includes training on prevention, provision of insecticide-treated bed nets, screening for windows in all Volunteers' homes, and a choice of one of four types of medication, each of which has proven extremely effective in suppressing malaria. With the proper use of bed nets, protective clothing, insect repellents and anti-malarial medication, the chances of developing active malaria are significantly reduced.
The Peace Corps' Office of Health Services continually updates its policy on malaria suppressive medications based on the best medical information available and is working closely with the Centers for Disease Control and Prevention to monitor any further developments. Currently serving Volunteers who have questions about their health care can contact the Peace Corps' Quality Improvement Unit at qualitynurse@peacecorps.gov. Returned Peace Corps Volunteers with concerns about their health care can contact the Peace Corps' Post Service Unit at psu@peacecorps.gov